Why We Do It

To solve the problem of plastic waste
The Big Problem with Plastic
Plastic is causing severe environmental, social, economic and health crises. We have become addicted to single use plastic. Globally, every minute over one million plastic bottles are purchased and annually up to five trillion plastic bags are used and then thrown away.
Plastic is causing the following threats to the environment: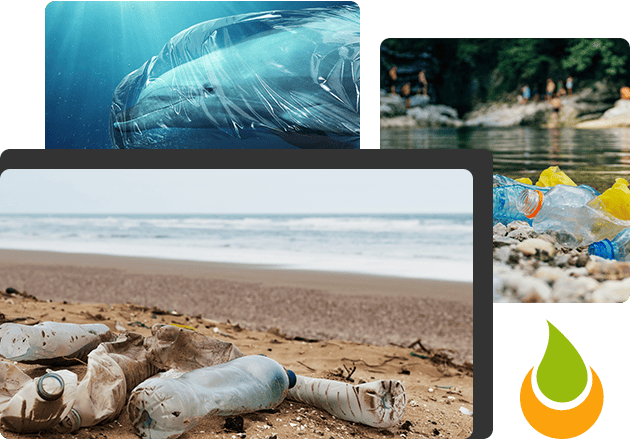 Time it takes to degrade / Degradation time
Some of these plastics block up sewers and drains.
At present, techniques for recycling and transformation of plastics by means of reversible processes are known, obtaining different types of mix of light and heavy hydrocarbons or some specific hydrocarbons such as kerosene, diesel or gasoline.
These processes do not obtain these hydrocarbons simultaneously and specifically their yields and efficiencies are low and their process costs are high because they use catalysts or expensive equipment and complicated infrastructure.
Plastic waste is littering our oceans and threatening the lives of millions of marine animals. Seals, whales, dolphins, seabirds, fish, crabs and many other animals are dying and becoming sick because of this deadly environmental concern.
Microplastics are tiny pieces of plastic which come from larger plastics that have degraded over time. After ingesting microplastics, seals, and other animals can suffer for months or even years before they die.
Plastic Islands have formed in the Oceans. It is estimated that 1.15 to 2.41 million tons of plastic are entering the ocean each year from rivers. More than half of this plastic is less dense than the water, meaning that it will not sink once it encounters the sea.
WASTE PLASTIC TO USABLE FUEL
PlastikGas
®

Technology converts
waste plastic into usable fuel
using all seven types of plastic
PETE
Polyethylene
terephthalate
HDPE
High-density
polyethylene
LDPE
Low-density
polyethylene
Classification of Materials
PETE
Polyethylene terephthalate
Bottles of beverages, water, sauces and condiments, containers of oil, cosmetics and medicines.
HDPE
High density polyethylene

Shopping bags, water pipes, buckets, dairy bottles, shampoo bottles, softeners and detergents.
Bank cards, tarpaulins and billboards, sports shoes, soles of all types of footwear, wrapping gasolines, cables, rubber and office items.
LDPE
Low density polyethylene
Bags for frozen foods, shopping bags, industrial bags, ice buckets, bags for serum and flexible caps.
Reusable dishes for microwaves, kitchen elements, containers for yogurt, bottles, caps in general, non- disposable glasses and coolers.
Shopping bags, water pipes, buckets, dairy bottles, shampoo bottles, softeners and detergents.
Compact discs, cabinets
of electronic devices, sunglasses and prescription bottles,
lamps for automobiles, telephones and toys.